STAN SMITH ICE – CREATIVE FROM START TO FINISH
BGASupport Mar 11 Comments off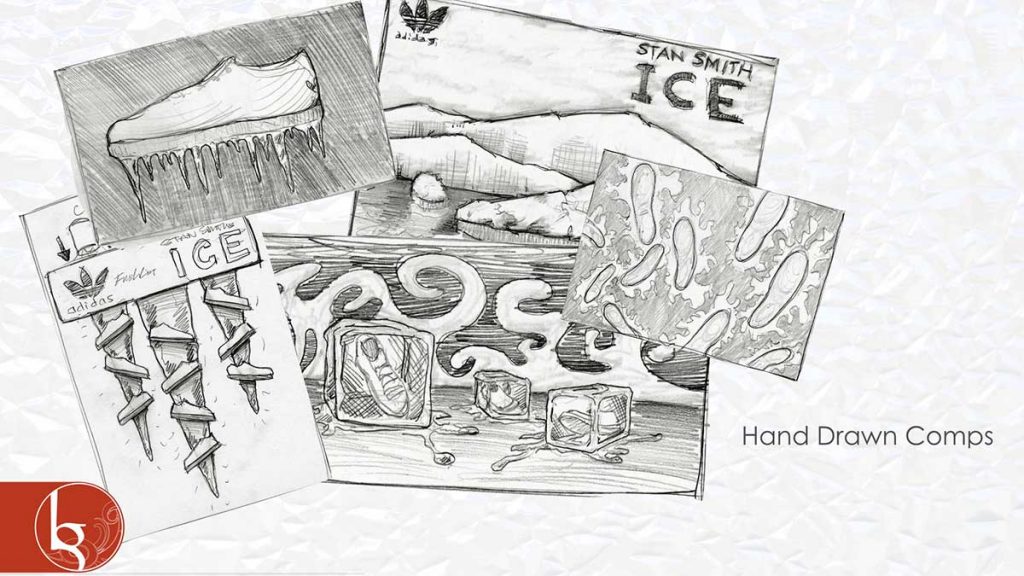 OBJECTIVE: Create unique campaign to launch the new, exclusive Stan Smith ICE shoe for retail that the average consumer can understand the technology "at-a-glance".
TARGET AUDIENCE: Male and female back to school consumers, aged 15-24 who are trend setters, multi-sport athletes, popular, and social.
Bauer was tapped by the team at adidas to create the Stan Smith Ice retail campaign for ~370 Foot Locker and Finish Line stores.  Our team began putting pen to paper to produce between 20-30 sketches of what this campaign would feel like.  After a peer review, we then began to expand of the strongest visual centers from this first step of the process.  The team at adidas was with us every step of the way making sure that our creative elements would speak to the casual consumer while provide a level of understanding that would appeal to a performance athlete.
Based on the initial designs we produced, 70 stores requested expanded window displays which increased the number of assets to produce within the same timeline as originally proposed.  We went to work on the expanded creative elements and tapped partners to assist in the fabrication, logistics, and installation.
The results of the campaign visually exceeded the client's expectations and we were informed our efforts had 'considerably' increased sales for the product:
"The biggest point to note is that in the 369 wall doors the weeks average sell through was considerably higher, @ 3.8%, than in non-wall doors @ 2%.

Beyond that, the 10 wall doors blanketed with ICE product is even higher, averaging at 6.7% but with a couple specific doors in the double digits. In those same 10 doors the total originals footwear selling (so not just ICE) the average sell through is 4.7%."
This project was an incredible experience for us and opened the door to additional project opportunities.  We're fortunate enough to continue doing work like this at retail with clients like adidas, Nike, the NBA, and even with local companies like Portland Running Company and Run with Paula.