Oh look, its raining again…
Over our 16 years of operation, Bauer has received its share of peer related accolades which include a handful of gold embossed certificates, a hearty collection of pats on the back and countless recognition in Best of [insert your city here] Awards for Graphic Design emails. This year, however, we were taken aback by the cavalcade of awards that have come through the Bauer Graphics based on nominations from our partners and clients.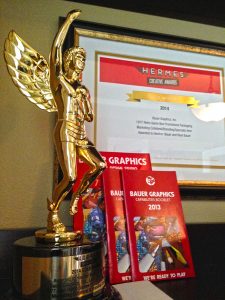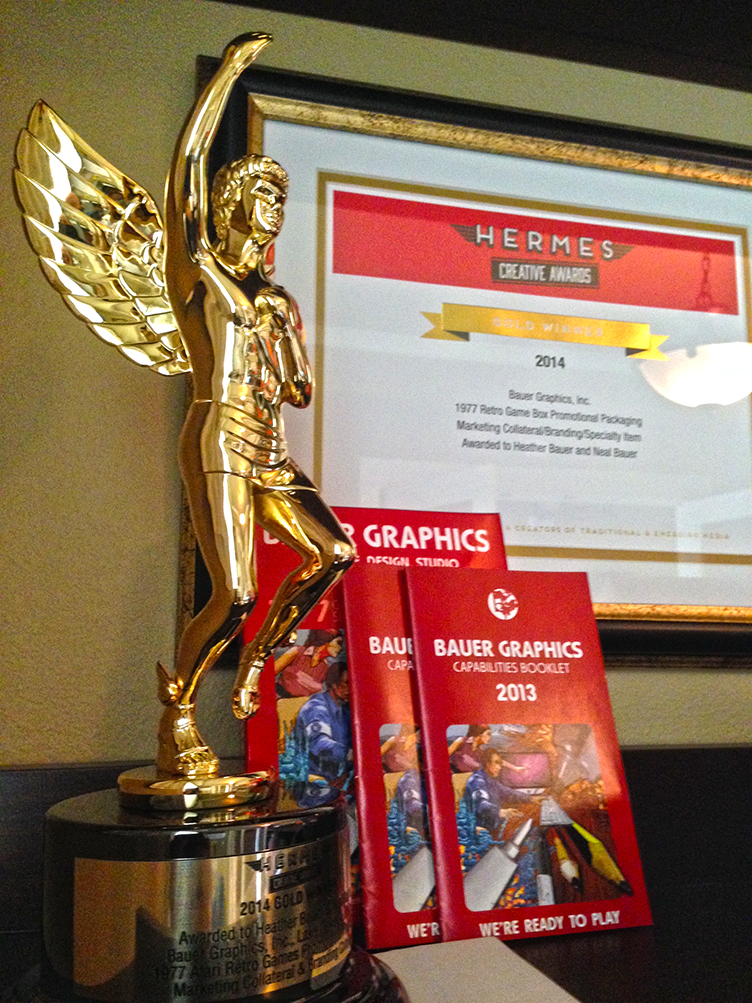 The year began with our team taking our first Hermes Creative Award for our work on the 1977 Retro Box Art promotional packaging developed for the Seattle Penny Arcade Expo (PAX). The Hermes Award is an internationally recognized competition for creative professionals involved in the concept, writing and design of traditional materials and programs.
"When we were first approached by the Hermes Awards nomination team we were elated to simply be considered. Our feelings on actually receiving a Hermes Award and being recognized alongside the top agencies, PR firms, graphic design studios in the world, it's something we just can't put into words."
But it didnt stop there.
Over the summer Bauer Graphics was recognized for our efforts in leveraging technology to transform organizations during the Innovations for Entrepreneurs event. This competition, sponsored by companies like Comcast, Microsoft, Symantec, Cisco and others was developed to recognize the entrepreneurs that are making both customer and employee experiences better with technology. Bauer Graphics took home the Regional Award for the West Coast Territory which included all of Washington, Oregon, Idaho, California and Arizona.
Additionally, two of the largest graphic design periodicals, Print and HOW magazine, will be recognizing Bauer Graphics work in their upcoming Regional Design Annual and In-House Design Awards issues.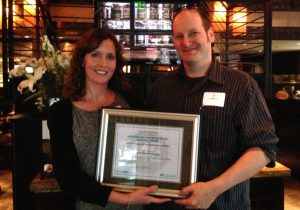 Most recently, we received notification from Graphic Design USA which, since 1963, has been THE news publication for graphic designers and other creative professionals. In the past, Bauer Graphics has been recognized by GD USA as well as our advertising agency, graphic design firm, corporate, institutional and publishing peers, but weve never experienced anything like what happened this year. Bauer Graphics took home awards in both the Health and Wellness and Overall Graphic Design Graphic Design USA categories. These victories are as big for us as the let our clients know that our designs arent just helping them tell a story, engage with their consumer or generate revenue. Our designs are being recognized by peer publication in, what is being referred to as, the "YEAR OF THE DESIGNER".
Bauer Graphics has been fortunate enough to work with some exceptional clients and being able to play a part in their success has made this 11 year journey all the more worthwhile. Thank you all, clients, employees and friends for allowing us to do what we love and for recognizing that creativity will always be at the top of our priorities.
"If you, my fellow art directors, want to win awards, devote your genius to making the cash register ring."
– David Ogilvy